Did you know . . . April is the 100th anniversary of Titanic's sailing?

And here's your chance to honor the sailing of that grand ship, by hosting your own Titanic party with our murder mystery dinner party game for 10 players, set during the last dinner on board the great luxury liner. Enter the world of Edwardian opulence, and see what it was like to be aboard one of the most famous ships of our time!

White Flag Over the Seven Seas

or

Who Took Down the Tyrant?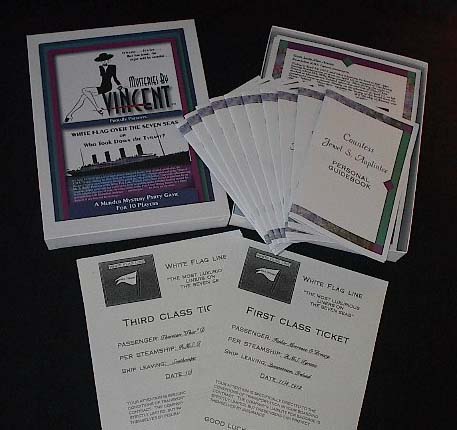 It's April 14, 1912, and you've been aboard that luxury liner deemed unsinkable, the R.M.S. Tyranic, sailing from Southampton to New York on her maiden voyage. Though some call it the "Ship of Dreams," you soon learned it should be called the "Ship of Schemes," especially after meeting Mr. Ty Rante, President of the White Flag Line. Tonight you've been invited to join him for an exquisite dinner party, one that could prove to be as chilling as the icebergs floating around the North Atlantic this time of year. So come inside to the First Class Dining Saloon, to a dinner just sparkling with Edwardian opulence.
The Characters in this
Titanic murder mystery dinner party game include:
Captain R. Eddy Touretire,
is the dashing and daring captain of the R.M.S. Tyranic. Having enjoyed a long and distinguished naval career, the maiden voyage of the Tyranic will be the last for him. He'll be sad to say goodbye to the high seas and intends to retire to a small cottage by the British shoreline. Of course, he always wears his captain's uniform.
The Unextinguishable Milly Beige,
as she's often called, earned her nickname after surviving 5 shipwrecks, 3 train collisions, one plane crash and a bad case of lockjaw. A radiant and ravishing member of the nouveau riche, she's an American millionairess who's not afraid to spend her estranged husband's money. She's always dressed to the nines and never goes anywhere without her lucky Egyptian statuette.
Countess Jewel S. Auplintee
is one of the loveliest and most ladylike members of the Austrian aristocracy. Dignified and delicate, she is known for the abundance of jewels she's collected since childhood. As a Countess, she keeps apprised of the affairs of state, and doesn't believe that war is coming. Of course, she wears only elaborate, jewel-encrusted fashions.
Thurstan "Thur" D. Klaas
is a freewheeling, free-spirited amateur artist, who was lucky enough to win a ticket aboard the Tyranic in a last minute poker game at a pub near the docks. A man who lives from dime to dime and dollar to dollar, Thur makes his living as he goes. Ruggedly handsome, he has the muscles to prove that he's used to hard labor. He wears the only clothes he owns - corduroy pants, a high-collar shirt and a tweed jacket - unless, of course, he should happen to borrow a tuxedo for dinner.
Primrose "Prim" Ann Propper
is a governess by trade and responsible for the education and upbringing of the two young Morganstine children. Pretty and particular, she is a woman of high moral standards and comes with excellent references. She boarded Tyranic against her better judgement, having endured weeks of premonitions and omens, warning her that the ship will meet with disaster. She wears either high-collared, conservative clothing, or borrows an evening gown from her employer for dinner.
Dr. Grayden "Gray" V. Deeger
is a German Egyptologist, famous for his survival of King Tuff's tomb. Having unearthed more than his share of gold and lapis-laden treasures, his exploits have made him famous in his country, with the Kaiser being his number one fan. Dr. Gray is often described as an eccentric intellectual, willing to sacrifice all for his science. He usually wears a tweed suit or a tuxedo for dinner.
Senorita Suelita "Sue" Parficial
is a flashy, fiery and famous Flamenco dancer, a woman of both great grace and passion. Born in Chihuahua, Mexico, her parents sent her to Europe to study dance when she was a young girl. Now she has been summoned home to Mexico by her father, a wealthy cattle baron with strong political connections. Sue always wears the latest of Paris fashions, though they tend to be more flamboyant than most.
Father Morrosse O'Dreary
is an Irish Catholic priest, known for his sermons on the sanctity of suffering. Once considered a candidate for popehood, he now heads a small parish in the Irish countryside, at the Church of Our Lady of Incessant Anguish. Father O'Dreary always wears his priestly collar and black clothes, and discreetly carries a whiskey flask wherever he goes.
Lady Mya Arstite
is an enchanting and elegant member of the British aristocracy. She is famous for her exquisite balls and lavish dinner parties, and is possibly the utmost socialite of the new century. Claiming to know anyone worth knowing in all of Europe, Lady Arstite is among the growing numbers who believe that war is inevitable. She wants to take one more pleasure cruise before the shells start flying. She wears only the most up-to-date evening gowns from Paris.
Earl of Teetom,
Erle Grey is a rich and refined member of the English upper crust, who lives on the enormous medieval estate that has been in his family for centuries. Despite his nobility, the Earl is a businessman and owns his own tea-processing and food-packaging plant. Well-mannered and quick-witted, the Earl's dinner attire is strictly white tie and tails.
And . . . here's another game idea for hosting a very elegant party:
A Perfectly Perilous Pageant
or
Who Shot the Shoe-in?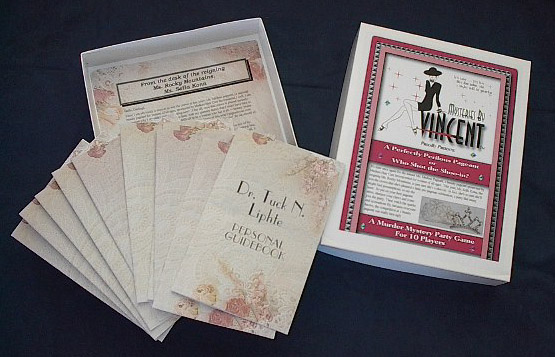 It's time once again for the annual Ms. Medusa Pageant, a beauty pageant sponsored by Medusa Hair Care, Inc. for women of all ages. This year, Ms. Sella Konn, the reigning Ms. Rocky Mountains, is just sure she's a shoo-in. In fact, she's so sure she'll win the crown that she's planned a little pre-pageant celebration, a party that many might find presumptious, to say the least. So put on your best pageant attire, sharpen your claws and come join the party. Then watch the sparks and accusations fly, because everyone knows, the competition at a beauty pageant can really turn ugly . . .
The Character Roles for this mystery party game include:
Rinah Plastee
is a Ms. Medusa Pageant contestant, having recently won the title of Ms. Texas Panhandle. A waitress from Odessa, Rinah is a twice-divorced mother of three. Determined, dedicated and driven, she's sure her pageant talent of skeet shooting will wow the judges and make her a winner. She always wears her Ms. Texas Panhandle crown and sash with her elegant gowns.
Nathanel Parks
is the dashing and adorable host and announcer for the Ms. Medusa Pageant. But he is most famous for singing the Ms. Medusa song every year when the winner is crowned. Charming, chatty, and chipper, he is a precision performer and claims to have show biz in his blood. For evening events, he wears the same tuxedo he wore when the pageant first started ten years ago.
Sharon Sharalyke
is the reining Ms. Medusa. A native of Milwaukee, Sharon was originally crowned Ms. Urban Sprawl. She is a professional caterer and home-entertaining expert who now hosts her own cable TV show called "Domestic Dazzle." Creative, confident, and capable, Sharon specializes in bringing back the abilities of bygone eras. She sews her own elegant evening gowns and never goes anywhere without her Ms. Medusa crown and sash.
MaeBea Shellwin
is a telemarketer from Topeka. She is also a Ms. Medusa Pageant contestant, having been crowned Ms. Great Plains just months ago. Her talent of a dramatic reading from her favorite romance novel really swept the judges away. Sweet, sappy, and sentimental, MaeBea claims to be a hopeful romantic, meaning she hopes to bag the Ms. Medusa crown in order to bag a husband. She prefers soft, dainty gowns, and always wears her Ms. Great Plains crown and sash.
Dr. Tuck N. Liphte
is one of the world's foremost plastic surgeons, sometimes called the King of the Collagen injections. With the right surgery and medical procedures, Tuck claims he can make any woman stunningly beautiful. Sociable, sophisticated and sardonic, he takes a personal interest in his patients' well-being and often makes house calls. He wears the utmost of evening fashions.
Taykano Priznerze
is another Ms. Medusa Pageant contestant, having won the title of Ms. Continental Divide. A taxidermist by trade, she owns her own company called "Stuffed with Style," whereby she specializes in decorating her subjects with sequins and rhinestones. She plans to use her stuffed animals in her ventriloquist act for the pageant's talent competition. Smart, swank, and sultry, she prefers sparkling gowns to go with her Ms. Continental Divide sash and tiara.
Botan Paydphor
is the head judge of the Ms. Medusa pageant. As a former halfback for the Peoria Pigeons, a semi-pro football team, he feels fully qualified to be a beauty pageant judge. Slick, suave, and self-assured, Botan enjoys hobnobbing with the bevy of beauties who enter the pageant. He usually wears a tuxedo or a perfectly tailored suit.
Charmyn Lee Slick
is a former Ms. Middle-Of-Nowhere and was crowned the first Ms. Medusa 10 years ago. Thanks to the scholarships awarded by the pageant, Charmyn earned her Ph.D. in Interstellar Communication and became a key radio astronomer for FETA. Tenacious, talented and temperamental, she recently became the fulltime Pageant Director for the Ms. Medusa Pageant. She wears flashy evening fashions, accessorized by her Ms. Medusa crown and sash.
Harry Medusa
is the President and founder of Medusa Hair Care Incorporated, as well as the corporate sponsor and founder of the Ms. Medusa Pageant. Harry is applauded by women everywhere, both for the creation of his company's products and for considering the needs of his customers. Sincere, sensible and systematic, Harry dresses in conservative clothes.
Wiley Wheazle
is a talent agent from Southern California. A man who flashes his thousand-watt smile as easily as he flashes his credit card, Wiley brags about being able to carry on a conversation with anyone. He constantly promotes his stable of stars, and claims to work round the clock, even while he's sleeping. Personable, persistent, and persuasive, Wiley wears only retro styles.
Yes, a Perfectly Perilous Pageant > is just good, wacky fun. After a night of laughing over this incredibly unusual beauty pageant, you'll forget the real world for a while. This game provides everyone with a chance to dress up for a night . . . The men in their suits or tuxedoes, and the women in their gowns and crowns . . . which can be especially fun, since . . . let's face it, women simply don't wear crowns enough these days . . . It's perfect for holiday entertaining, especially New Year's Eve.
It's official! We've been reviewed by the Wonderful Women at the Take it From Me Blog. See what they had to say about our very fabulous and very popular Diamonds are For Eva game. And win a free one of your own on their site!
Diamonds are For Eva
or
Who Held up the Heist?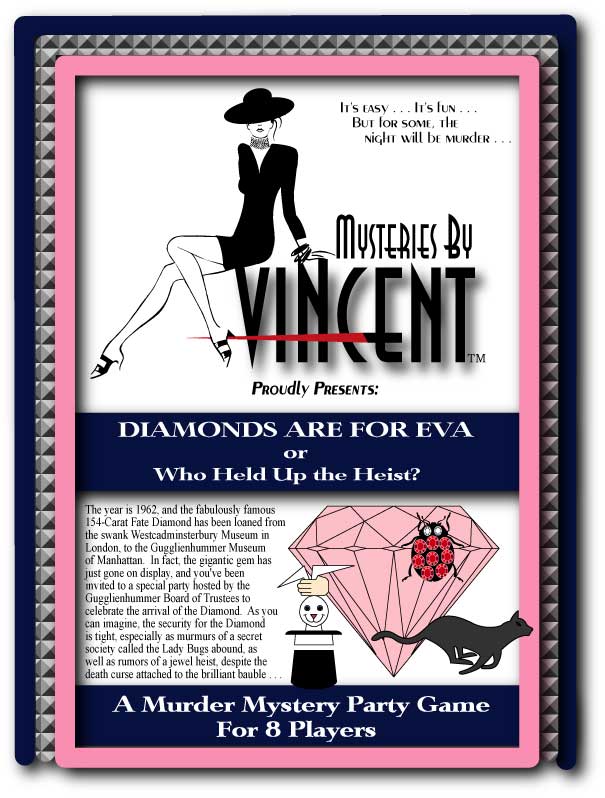 The year is 1962, and the fabulously famous 154-Carat Fate Diamond has been loaned from the swank Westcadminsterbury Museum in London, to the Gugglienhummer Museum of Manhattan! Oh, how exciting! The gigantic gem has just gone on display, and you've been invited to a special party hosted by the Gugglienhummer Board of Trustees to celebrate the arrival of the Diamond. As you can imagine, the security for the Diamond is tight, especially as murmurs of a secret society called the Lady Bugs abound, as well as rumors of a jewel heist, despite the death curse attached to the brilliant bauble . . . So come join the fun, and be sure to wear your best jewelry . . .
The Character Roles in this Murder Mystery Game include:
James Bored, Agent 30.06,
is on hiatus from Her Majesty's Secret Intelligence Service and is temporarily employed by the Westcadminsterbury Museum. Now in charge of security for the Fate Diamond, James accompanied the Diamond as it was transported from London. Dashing and debonair, he's known for having a way with women. He prefers a white suit jacket with a red rose boutonniere for evening affairs.
Hope Dimonde
is the Chairman of the Board of Trustees for the Westcadminsterbury Museum of London, the owners of the famous Fate Diamond. Gorgeous and gutsy, she graciously agreed to accompany the Fate Diamond as it was loaned to the Gugglienhummer Museum of Manhattan. A sultry socialite from London, Hope wears the utmost in elegant evening attire.
Frank Singalotta
is the Chairman of the Gugglienhummer Museum Board. But he's better known as America's favorite male crooner, a singer whose voice makes grown women cry. Handsome and happy-go-lucky, Frank is a member of the famous "Rodent Pack" of Vegas performers. He's originally from Jersey, but now resides in Las Vegas, where he sings almost nightly at Harry's Hotel on the Las Vegas Strip. Frank wears the latest of early 60s fashions.
Pinkie Panther
is the perky Secretary of the Board of Trustees for Manhattan's Gugglienhummer Museum. Sleek, sassy and sophisticated, it was Pinkie's bright idea to request a loan of the famous Fate Diamond from the Westcadminsterbury Museum of London. As a member of Philadelphia's high society, Pinkie spends her days in pursuit of the perfect beauty parlor and her nights attending posh parties. She prefers slinky evening attire in her signature color of pink.
Lord Adair N. Fantome
is a rich aristocrat who wholeheartedly believes in backing museums. He is a former Board Member of the Westcadminsterbury Museum of London, and now on the Board of Manhattan's Gugglienhummer Museum. Originally from London, Lord Adair now lives in Boston, where he has been fascinated with baseball, apple pie, Superman comic books, and the American way of life. He wears elegant evening suits for any nighttime event.
Countess Kat Berglar
is a recent transplant from Bavaria, who now divides her time between the ski slopes of Aspen and the swanky shops of Manhattan. A fashion and jewelry designer herself, Kat caters only to those who can afford her designs. Her name is known in high-society circles everywhere, and she has endless invitations to elegant social events. Rich and ravishing, she's also a Gugglienhummer Board Member, and wears only her own fashion creations.
The Great Harvey Houdunit
is a magnificent magician, who has performed at all the big hotels in Vegas, as well as lots of luxury cruise ships. Magnetic and mysterious, Harvey has practiced his prestidigitation until he perfected his performance. He's originally from the Bronx, and also a Gugglienhummer Board member. He wears suits with plenty of pockets and often carries a magic trick or two. But some say he may have more up his sleeve than just the usual bag of tricks . . .
Doris Dailey
is a majestic movie star, one of Hollywood's best and most beautiful. She's starred in such smash hits as
Loves Lost, Lost Loves Live,
and
Live, Love and Lose.
Though she resides in Beverly Hills, New York is her home and where her heart belongs. She's another member of the Gugglienhummer Board of Trustees, and she donates lots of dollars.
Need some fabulous vintage jewelry to wear to your party? Check out Eclecticala Vintage Jewelry.